Surfers Tropique FAQs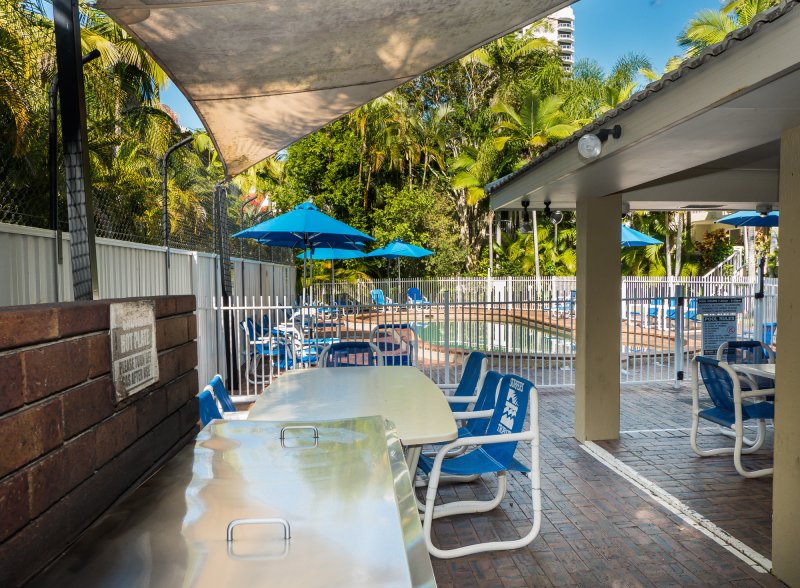 Browse the Surfers Tropique frequently asked questions by selecting a category below. If you have a question that is not listed, please contact us.
Booking & Check-In
Information about bookings, payments and check-in.
Q: What time is check-in and check-out?
Check In is available from 2pm. Check Out no later than 10am
Q: Do you require a security bond upon check-in?
A $200 security bond is required upon Check In.
Q: Is after hours check-in available?
We offer a 24-hour check in available and there is always someone on hand to welcome you.
Q: Can I have a late check-out?
By Request.
Q: When do I have to pay a deposit?
A deposit is payable upon booking.
Q: What are the reception hours?
Monday - Friday 8:30AM - 5:00PM Saturday: 8:30AM - 12 NOON Sunday: 9:00AM - 11:00AM
Q: Can I book theme park tickets at reception?
Yes, most certainly. From the Gold Coast's best theme parks, to the national parks of the Sunshine Coast and the beautiful beaches of Byron Bay, drop by the resort tour desk for friendly local advise, tour and show bookings, and much more.
Services & Facilities FAQ's
General information about our accommodation services and on-site facilities.
Q: Is there Internet or WiFi access available?
There is WiFi access in every apartment. (Additional fees apply)
Q: What facilities do you have?
Heated Swimming Pool Spa BBQ Facilities Tour Desk 24-hour Check In Free Underground Car Parking
Q: Is there car parking available?
Yes, one car park is allocated per apartment in our secure underground parking.
Q: Is all linen provided?
Yes.
Q: Is the pool heated?
Yes.
Location FAQ's
General information about our location.
Q: How close is Surfers Paradise & Broadbeach?
We are a 15-minute walk to the heart of Surfers Paradise and Broadbeach.
Q: Are there shops or restaurants nearby?
Surfers Tropique is only a 15 minutes walk from the restaurants, bars and nightlife of Surfers Paradise. We are also a 15-minute walk to Conrad Jupiters Casino, and the dining and shopping in Broadbeach.
Q: Is there public transport nearby?
There is easy access to public transport and its only a pleasant stroll to restaurants, cafes and shopping centres.
Q: How far away is the race track?
We are a 9 minite drive to the Gold Coast Turf Club.
Q: Where can I buy groceries locally?
Pacific Fair Shopping Centre features Coles and Woolworths. There is also a small convenience store within a 5 minute walk.